Linky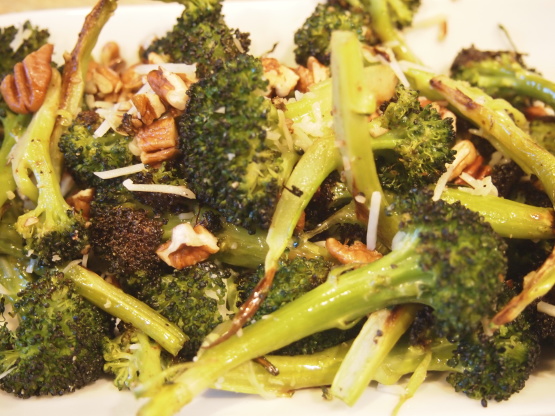 This is a wonderfully crispy, hearty and flavorful recipe that people will want to keep noshing on. The quantities below are guidelines, but add more or less of stuff to taste.

Top Review by Linky
I would give this more stars if I could! This is so good and so easy not to mention easy on the diet! (I used less that half the olive oil as stated in the recipe and about half the cheese and pecans.) When I announced we were having broccoli for dinner, DH said he'd just eat a little but when it came time to eating it, he devoured it and went on and on about how great it was! Thanks Geri! Made for Spring 2013 PAC
Preheat oven to 425 degrees F.
Put the broccoli florets in a large bowl. Pour the olive oil, salt and pepper in, and mix well, til the florets are lightly coated with oil and you can taste a little bit of the salt and pepper on the florets. You might need to adjust quantities to taste. Then, spread the florets evenly on a large baking sheet.
Bake for 20-25 minutes, until the broccoli are partly browned and the outsides are slightly crispy.
Meanwhile, toast the pecans in a toaster oven for 5-10 min on the toast setting.
When the broccoli is ready, take it out and let it cool 5 minutes, and then toss it with the toasted pecans, the parmesan cheese, the lime juice, and a little drizzle more of the olive oil. Toss and serve warm.