teresas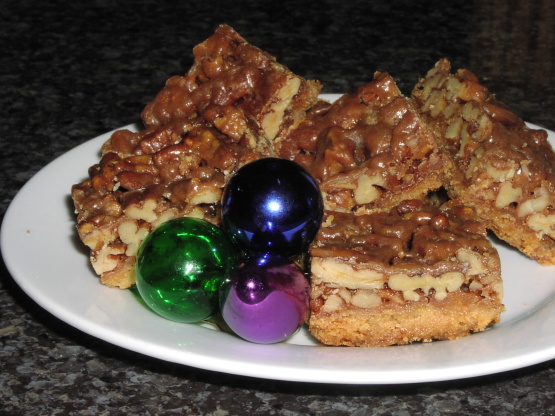 These make fabulous gifts and are a great addition to your holiday dessert tray.

Well...these didn't last long...I should have pulled them out of the oven earlier...but got side tracked and left them in the full 30 mins...next time the timer will be set for 20 mins to check on it...but the little bit over done didn't seem to discourage anyone from trying them and going back for thirds... I was afraid there wouldn't be any left for the New Year Eve party...I did cut them smaller due to the richness...yummy...they are very easy to prepare...I bought a 4 cup whole pecans and broke them in pieces in their bag...worked great and was less expensive...I know this are going to be made again...made for For Your Consideration tag game...=)
Position an oven rack in the center of the oven and preheat oven to 350 degrees. Butter a 13x9-inch baking pan. Line the bottom and the 2 short ends with a 20-inch-long piece of aluminum foil, pleating the foil to fit and let the excess foil hang over the ends. Lightly butter the foil.
To make the shortbread layer: In a medium bowl, mix the flour, butter and sugar with an electric mixer set on low speed just until combined and crumbly. Do not mix into a dough; it should remain crumbly. Press firmly and evenly into the prepared pan. Bake until golden brown, about 30 minutes. Remove from the oven and let stand on a wire cooling rack. Leave the oven on.
To make the topping: In a medium saucepan, bring the butter, brown sugar, honey, maple syrup and heavy cream to a boil, stirring until the butter melts. Boil for 2 minutes. Remove from the heat and stir in the pecans. Pour and spread the pecan mixture over the crust.
Return to the oven and bake until the pecan mixture is bubbling and golden brown around the edges, about 30 minutes. Let cool completely in the pan on a wire cooling rack.
Run a dinner knife around the edges of the shortbread to release it. Lift up the foil "handles" and remove the shortbread from the pan. Using a long sharp knife, cut into 24 rectangles.