Pecan Sour Cream Coffee Cake
gailanng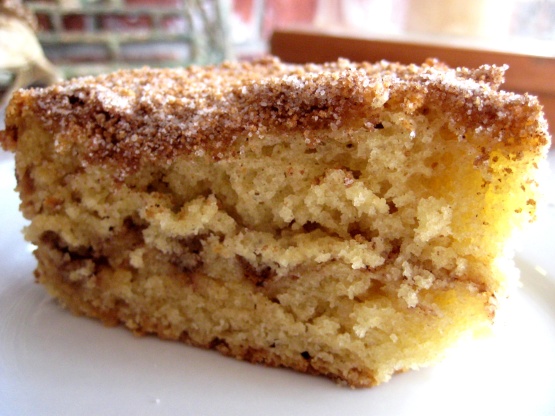 Very easy and most items are on hand to make this delightful coffee cake. If you choose not to sift the flour, use only 1 7/8 cup. This recipe was given to me by a very dear friend and is always a big hit when shared.

I'll take two, no make that three slices. I had to tell myself no more. I handled that quite well, right? Made for Best of 2010.
Mix sugar, brown sugar, cinnamon and pecans in a small bowl and set aside.
Cream butter and sugar together, then add in sour cream, eggs and vanilla.
Sift flour salt, soda and baking powder.
If you choose not to sift ingredients, cut flour back to 1 7/8 cup.
With a mixer begin with flour mixture and add alternately with 1 cup sour cream mixture, ending with flour mix.
Pour half of the batter in a greased and floured 9x12 pan, sprinkle with half of the sugar mixture, then remaining batter and finally sprinkle top with remaining sugar mixture.
Bake at 325 for 27-30 minutes.