Pecan Sandies - Cake Mix Cookies
alligirl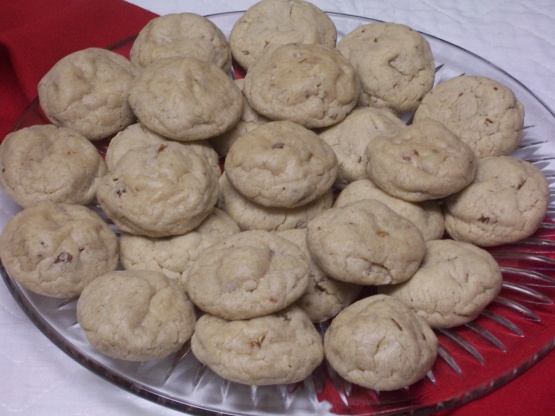 A quick, easy and inexpensive way to make these traditional favorites.

These couldn't be any easier! I was in need of one more variety of cookie to finish up my holiday trays. Between a time crunch & our grandson's visit I was looking for quick. I had the butter pecan cake mix on hand so decided to try these. I am so glad I did! The cookies are delicious, baked to a pretty color, and held well. I made exactly 24 cookies per batch. One note; they don't spread out much so depending on pan size they could be spaced closer together. I will definitely use this recipe again. Thanks for sharing the recipe! =)
Pour cake mix into a large bowl. Whisk dry mix to remove lumps or sift it into the bowl.
Add pecans to the dry cake mix and stir well.
In a liquid measuring cup, add the egg. Add enough oil to the egg to bring the mixture to 1/2 cup. Add enough water to bring the mixture to 2/3 cup. Beat mixture together with a fork.
Add egg mixture to cake mix in large bowl. Mix well.
Using a teaspoon or small ice cream scoop, gather balls of dough, rolling them into perfect circles. Place 12 on a cookie sheet and bake 8-12 minutes at 350 degrees F. If they get golden brown, they are too done. Pulling them out around 10 minutes should be perfect.
Let the cookies cool 5 minutes before transfering them to a plate or container.