Saving this recipe for safe keeping.
Directions
Heat oven to 350°. Grease bottom only of two 9x5-inch loaf pans.
In large bowl, combine flour, whole wheat flour, sugar, baking soda, salt, cinnamon and nutmeg; mix well.
In medium bowl, combine oil, water, eggs and pumpkin; mix well.
Add to flour mix; beat 1 minute at medium speed. Fold in pecans.
Pour batter into prepared pans. Bake at 350° for 60 to 70 minute or until toothpick inserted in center comes out clean.
Cool 10 min; remove from pans and cool on wire rack.
Reviews
Most Helpful
Delicious pumpkin flavor that really complements the pecans and that touch of cinnamon. Thanks so much for sharing. I have never baked pumpkin bread before, now I am on to something! Have you ever topped the slices with cream cheese slightly sweetened with confectioner's sugar and a drop of almond oil? OOH...perfect for breakfast, snack, or dessert. **This was saved in my Top Favorite Recipes of 2008! Thanks again, WI Cheesehead!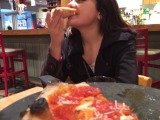 This is very good, easy to throw together, and fairly healthful. My kids liked it well enough, despite the lack of chocolate. ;-) Next time I might reduce the amount of oil and increase the amount of pumpkin -- I think it would probably come out just as moist, and I love pumpkin flavor. This will make a yummy treat for breakfasts -- I think I might toast slices and put peanut butter or jam on them! Thanks for sharing this recipe, WIC!