KateL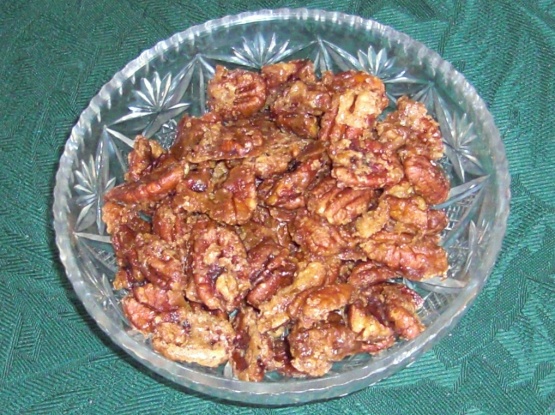 The first time I ever went to visit my friend Alan's family, his mom had made pralines. She is from Louisiana and made the best pralines! One night, I got hungry for them and did a quick search and found this OH SO EASY recipe!

Top Review by KateL
5 Stars, who knew these were this easy! My only problem is that I can't stop eating them, and once DH attacks, there will be no more left for me! Fortunately more pecans can be had from a wholesale club for a reasonable price. I can serve fancy pecans whenever I want with this recipe. Thanks Redneck Epicurean for posting this. Made for November 2008 Photo Forum Appetizer tag.
Preheat the oven to 350 degrees.
Spray a 9x9 pan.
Stir together all ingredients and pour into the pan.
Bake 20 minutes, stirring once while baking. When the time is over, remove from the oven and let cool slightly. Stir again and cool completely.
Store in an airtight container.