Pecan Pie With Kahlua and Chocolate Chips
Kel62286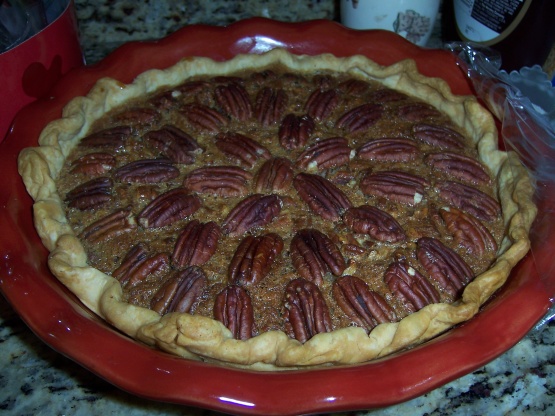 I have been making this pie for Thanksgiving for years. It is very simple and very sweet. Serve with whipped cream.

I cannot fault this recipe -- it is fantastic -- but I ruined the pie! I forgot to buy kahlua and didn't have any similar alcohol in the house, so I substituted 1/4 cup coffee for the kahlua. BAD idea. After an hour it was still practically liquid everywhere under the surface -- not just in the center! When I took it out of the oven, half of the pie sloshed out onto my floor. I will definitely try it again another time though b/c the cooked parts (all tiny outer edges of them) were delicious. Sigh.
Preheat oven to 375°F
Beat sugar and butter in medium bowl until smooth; beat in flour. Gradually beat in corn syrup, then Kahlúa and vanilla.
Mix in eggs, then chopped pecans.
Sprinkle chocolate chips over bottom of crust. Pour filling into crust.
Bake pie until filling is puffed around edges and just set in center, covering edge of crust if browning too quickly, about 45 minutes.
Transfer pie to rack and cool completely.