CIndytc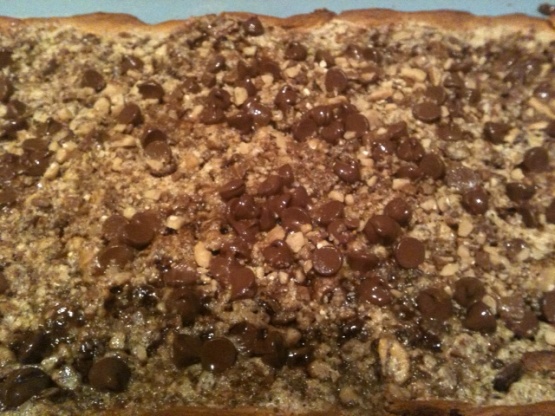 This was published in the Dallas Morning News in December 2010 as a prize winner in their holiday cookie contest.
Preheat oven to 375 degrees F.
Unroll the dough into two long rectangles. Place in an ungreased 9 x 13 inch pan and press over bottom and 1/2 inch up the sides to form a crust. Firmly press perforations to seal. Bake for 5 minutes. Set aside.
In a bowl, combine the pecans, sugar, corn syrup, butter, vanilla, egg, chocolate chips, and chocolate toffee bits.
Pour over the partially baked crust.
With a spatula, spread filling to cover the dough.
Bake an additional 18 to 22 minutes, or until golden brown.
Remove the pan from the oven and sprinkle with extra chocolate chips and chocolate toffee.
Cool completely. Cut into bars.