CoffeeB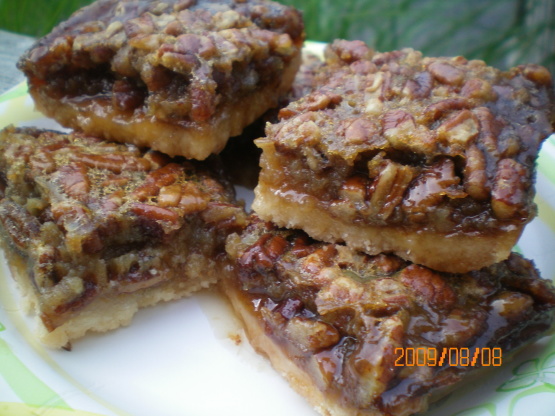 Made these today from my 2008 Weight Watchers cookbook and didn't see one like it, although there are numerous ones posted. This is so good and so easy to put together.
Preheat oven to 350 degrees F.
Combine flour, sugar and salt in a medium bowl.
Cut in the butter with a pastry blender until mixture resembles coarse meal.
Lightly spray an 8-inch square baking pan with cooking spray.
Firmly press flour mixture evenly into bottom of an 8 inch square baking pan.
Bake at 350 degrees for 20 to 25 minutes or until lightly browned.
Combine brown suar and corn syrup in a medium saucepan.
Over medium heat, bring to a boil stirring gently.
Combine egg and egg whites in a medium bowl.
Stir one-fourth warm syrup mixture into eggs.
Add to remaining warm syrup mixture.
Stir in pecans and vanilla.
Pour mixture over crust.
Bake at 350 degrees for 30 minutes or until set.
Remove from oven and let cool completely.
Cut into 16 squares.