leia555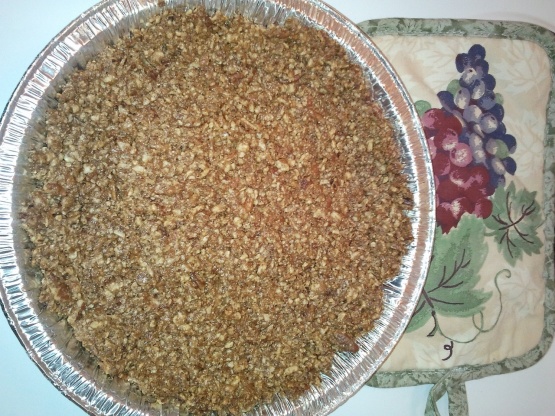 This is a delicious crust for cheesecakes or pudding pies. You may also use other kinds of nuts.

I'm from Alabama (now live in California). We used to drive to Panama City, Florida just to eat at Seven Seas. They had a glorious 3 layer cake called Fued Cake. OMG! It was worth the 6 hour drive. It is 3 nine inch layers of a chiffon type cake that uses pecan meal for the flour. It is iced fairly thickly with whipped cream and, of course, pecan pieces decorate the top. If it wasn't for the fat in the whipping cream (I do not do Coolwhip.....ever), using Splenda for your sweetener would make this the perfect, diabetic super dessert! Can't wait to try it!
Place pecans in food processor; grind until fine.
Add melted butter, brown sugar, vanilla and water.
Continue processing till mixture begins falling off sides of bowl.
Press into 9-inch pie pan.
Bake at 325° for 20 minutes or microwave at full power for 6 minutes.