Juenessa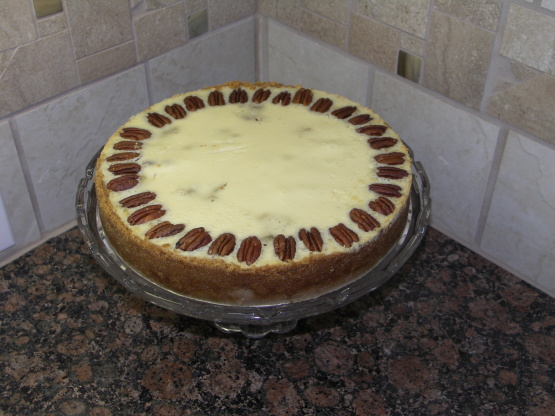 This is the recipe that won $100,000 in Southern Living's Annual 2002 recipe contest. Do you think it's worth $100,000???? I changed it a bit by baking it in a water bath and it is VERY smooth and creamy.

Top Review by Lutie
The cheesecake part was not that tasty to me. I used my own private cheesecake recipe which calls for 6 packages of cream cheese, etc. Since I have an aversion to using frozen pies/pie crusts of any kind , I made my own pecan pie and cut off the excess crust. Then I placed it in the cheesecake. The flaky crust of mine was much better tasting than the greasy, preserved tasting frozen pie full of chemicals. Also, I felt the graham cracker crust seemed to "fight" flavors with the richness of the pecan pie, so I used a butter/sugar/flour with a hint of lemon peel crust. It complimented the flavors tremendously and gave depth to the concoction. On the top of the cheesecake, I drizzle caramel sauce over the flat cake area, topping it with very few pecans. If you put so many pecans on top, then you lose the "Surprise!" of the pecan pie locked in the cheesecake's inner sanctum. This is worth the time, but do not waste your time by using frozen pies. You are too good of a cook to cheapen your abilities.
Preheat oven to 325°.
Thaw pecan pie according to package directions.
Cut evenly into 20 thin slices, keeping wedges intact, and set aside.
Line the outside of a 10-inch springform pan tightly with foil.
Stir together cracker crumbs and next 3 ingredients; press mixture onto bottom and 1 1/2-inches up sides of a 10-inch springform pan.
Arrange 10 pecan pie wedges in a spoke design in prepared pan, placing 1 cut side of each wedge on crust with narrow end towards center of pan.
Reserve remaining pecan pie wedges for another use.
Beat cream cheese until smooth; add eggs, 1 at a time, beating until blended after each addition.
Add sour cream, half-and-half, and vanilla; beat until blended.
Fold in powdered sugar and flour.
Carefully pour cream cheese mixture evenly over pecan pie wedges in pan, making sure wedges remain in place.
Arrange pecan halves evenly around edge.
Bake at 325° for 50 minutes in a water bath.
Turn off oven, and let cheesecake stand in oven 1 hour.
Remove to a wire rack, and let cool completely.
Chill at least 8 hours or overnight before serving.
Note: Baking in a water bath means that you set the cheesecake in a roasting pan filled with about an inch of water.
The foil should keep the water out.