Pecan Pie Bars With Shortbread Crust
Ruby-max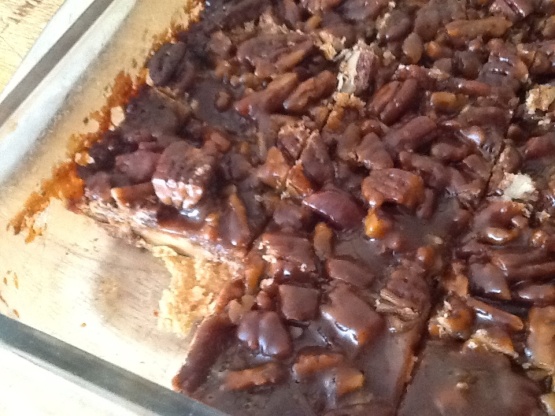 One of my favorite bars, this works well also with walnuts! The shortbread crust is light and buttery, make certain to make the crust only on a processor, mixing by hand will produce a harder textured crust, also make certain to pour the topping over the crust when it is hot out of the oven, so prepare the topping while the crust is baking, the filling takes only minutes to make! Yield is only estimated depending on size of bars. Cooking time is for both crust and topping.

This is a crowd favorite, even with those who don't like pecans! But to make these exceptional, increase the pecans by 50% and for ease, use pecan chips. I cut these bars into 1inch squares which seems to be the perfect size for consumption.
Set oven to 350 degrees, set oven rack to second-lowest position.
Butter a 13 x 9-inch baking pan.
For the crust: In a processor blend all ingredients until mixture begins to form small clumps.
Sprinkle the mixture into prepared baking pan.
Lightly press the mixture down with a spatula (do not pat down too much).
Bake in the second-lowest oven rack for 20 minutes until golden.
Meanwhile prepare the filling/topping: In a heavy saucepan melt butter and stir in brown sugar, honey and whipping cream; simmer mixture for about 1 minute, stirring occasionally.
Stir in chopped pecans.
Pour the pecan mixture over hot shortbread crust and spread evenly in the pan.
Bake on the second-lowest oven rack for about 20-22 minutes.
Cool completely in the pan.
*NOTE* these bars will cut better if refrigerated.