Katzen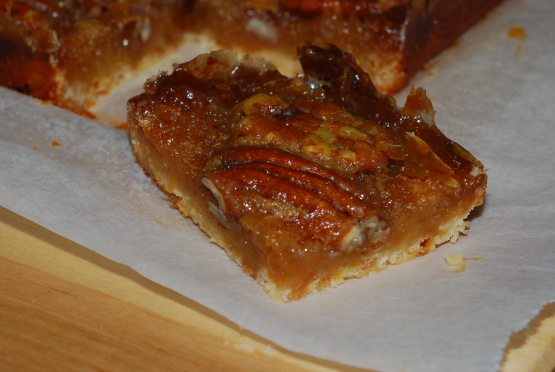 The great taste of pecan pie, in an easy-to-eat bar :)

Usually I make a similar recipe with cake mix. However, no cake mix in the pantry so I tried this one. It is superb. Delivers on the great taste with little fuss involved. I made it all in one bowl so very little to clean up! I substituted margarine with butter since it seemed too good a thing not to do. Thanks for sharing such a goody!!!
Grease the bottom and sides of a 13x9 inch baking dish.
In a large bowl, mix the crust ingredients until mixture resembles coarse crumbs. Press evenly in the baking pan. Bake at 350 degrees for 20 minutes.
In a large bowl, mix the eggs, corn syrup, maple syrup, sugar, salt, and melted butter until well blended. Stir in the pecans.
Pour the pecan mixture over the hot baked crust and spread evenly. Bake at 350 degrees for 25 minutes, until set.
Cool slightly, then cut and remove from pan (they are easier to remove while they are warm).