Ashley Cuoco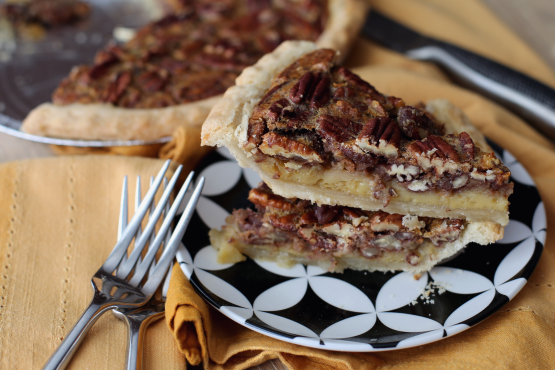 A wonderfully sweet pecan pie that is perfect. I like a small scoop of vanilla ice cream with mine! Enjoy.

This is the recipe that has been on the karo syrup bottle for about 20 years....I know, because I've been making it that long! The only difference is that they suggest a deep dish pie pan (the filling amount is actually for a deep dish pan) and increasing the baking time to 55 to 60 minutes and cooling for 2 hours before cutting. Otherwise, it is an exact replica. Dark and light corn syrups are interchangeable....the recipe is the same on both bottles. Making this for a family reunion Thanksgiving this weekend, and my own Thanksgiving on Thanksgiving Day this year. Glad you posted the recipe.
Filling------------.
Beat eggs lightly with an electric mixer or fork until combined.
Stir in corn syrup, sugar, butter and vanilla extract.
Stir well.
Stir in pecan halves and pour filling into crust.
Bake in a 350 degree preheated oven, for 45 minutes or until knife comes out clean.
Tip: Cover edge of pie crust with aluminun foil for first 25 minutes of bake time, then remove for remaining 20 minutes, to prevent the crust from burning.