jonesies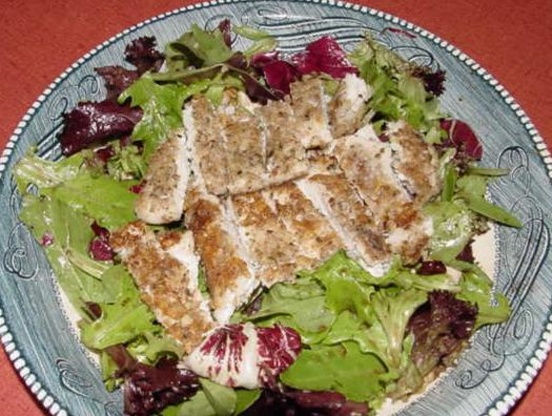 A different way to cook chicken that is very versatile. I have it pictured here on top of a salad of mixed baby greens, blue cheese, dried cranberries and pecans. Topped the whole thing with raspberry vinegarette and wow! It is also very good on it's own, or even on sandwiches the next day. Fabulous!!

This is my recipe from when I was featured in the October/November 2003 edition of Light and Tasty! Of course I love it! I serve it with Italian Seasoned Vegetables and Warm Banana pudding. Thanks for posting!
Flatten chicken to 1/2 inch thickness.
In a shallow bowl, combine the bread crumbs, parmesan cheese, pecans, oregano, salt, basil and pepper.
In another bowl, beat the cornstarch and egg whites.
Dip chicken into egg white mixture, then coat with crumb mixture.
In a large nonstick skillet over medium heat, brown chicken in oil for 3-5 minutes on each side. Transfer to an ungreased 15 x 10 inch baking pan.
Bake, uncovered, at 450 degrees for 8-10 minutes or until juices run clear.