Pecan Pancakes With Fudge Syrup
Zaney1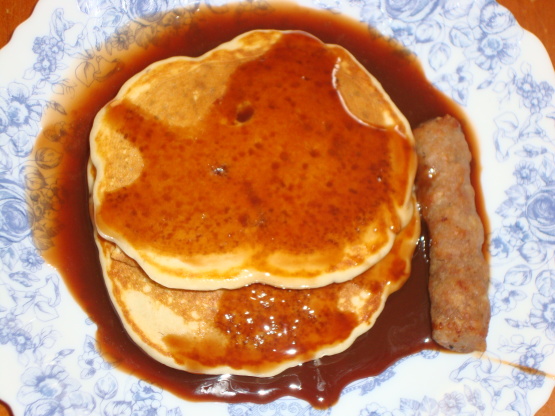 This is a recipe from a Pillsbury recipe card book. These are a nice chocolatey change of pace for breakfast. The pecans give a nice little crunch to the pancakes.
In 1qt nonstick saucepan, heat syrup and hot fudge topping over medium heat until warm, stirring until smooth.
Keep warm.
In a medium bowl, mix flour, brown sugar,baking powder, baking soda,salt and pecans.
Beat in buttermilk, eggs and butter with a spoon until blended.
Heat griddle over medium heat.
Grease griddle with butter.
For each pancake pour about 1/4 cup batter onto hot griddle.
Cook pancakes until bubbles form on top and edges look dry.
Turn and cook other sides until golden brown.
Serve with warm syrup.