Pecan Crusted Chicken With Blackberry Wine Sauce
Junebug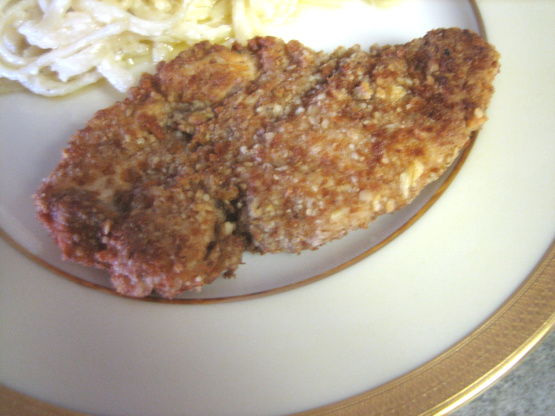 I haven't tried this recipe yet, but I thought it sounded so good I just had to post it for future preparation.

The wine sauce was delicious. The breading a bit bland. Would use panko next time.
Preheat the oven to 350 degrees.
Season the chicken with salt and pepper.
In a bowl, combine the milk and egg.
In another bowl, combine the pecans, bread crumbs and flour.
Dip the chicken in the milk and egg, then coat with the pecan mixture.
Saute the chicken in oil until browned on all sides.
Transfer the chicken to a baking dish.
Bake at 350 degrees for about 10 minutes, or until the juices run clear when pierced at the thickest part.
Sauce: combine the preserves and wine in a saucepan and heat through, stirring occasionally.
Serve the chicken with the blackberry wine sauce drizzled over it.