diner524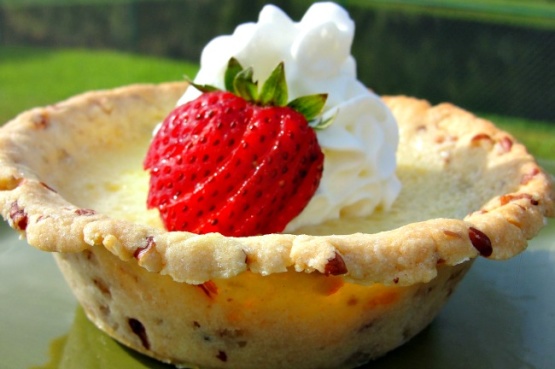 This is a simple and flavorful crust which is the perfect foundation for your favorite tarts.

This crust comes together in a minute and is a pleasure to work with. I made 8 individual mini tarts using recipe #31128 with a dollop of whipping cream. A dream combination. I will for sure be making this crust for many times to come. Thanks for sharing.
Preheat oven to 375 degrees.
Mix all the ingredients together, press into a 9" tart or pie pan.
Bake until golden, 15-20 minutes.
Cool and fill.
Note:.
For a quick and elegant dessert add a layer of pastry cream (or instant vanilla pudding made with 1/2 and a teaspoons of vanilla), and top with your favorite seasonal fruit- berries are especially good. Melt 3-4 Tbls of raspberry, apple or apricot jam with 1 Tbls. of a complimentary liquor, cool slightly and drizzle over the fruit, add a dollop of fresh whipped cream to each slice.