Sara 76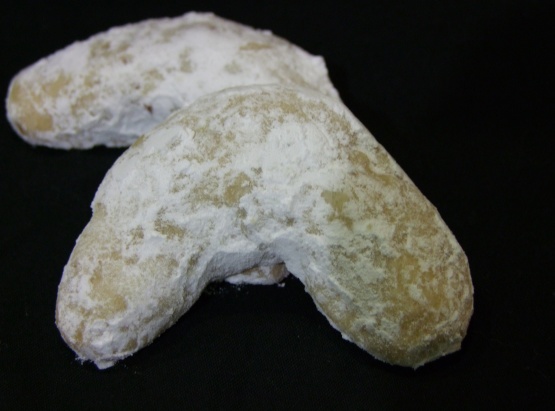 A melt-in-your-mouth cookie. My childhood friend's recipe from her grandmother. I've never measured the 12 tablespoons powdered sugar into cups. Measuring out each tablespoons so reminds me of my childhood.

These recieved mixed reviews in our house - my 8 year old and i LOVED them, but my husband and 10 year old didn't like them very much, but that's ok - that means more for us! I have people coming over today, so I'll serve the cookies up to them for another opinion. They appear to be the sort of cookie which would last well in an airtight container. I will be making these as part of my Christmas cookie list! Thanks for sharing [Made for Aus/NZ Swap]
Cream butter until light and fluffy; gradually beat in confectioners' sugar. Add water and blend. Add vanilla extract, flour and pecans. Blend well. Chill.
Shape dough into crescents, using about 1 tablespoons for each cookie.
Place cookies on ungreased baking sheets and bake at 325° for 20 to 25 minutes. Remove from baking sheet and cool completely on a wire rack. Don't skimp on the cooling step.
Place additional confectioners' sugar in a bowl (start with about 1 cup), coating each crescent well. Store in an air-tight container.