Pecan-Coconut Sweet Potaotes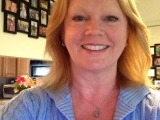 This recipe comes from TOH.
Directions
Place sweet potatoes in a 3-qt. slow cooker coated with cooking.
spray. In a small bowl combine the brown sugar, coconut, pecans,.
vanilla, salt and cinnamon; sprinkle over sweet potatoes. Drizzle.
with butter.
Cover and cook on low for 5-6 hours or until potatoes are tender,.
sprinkling with marshmallows during last 5 minutes of cooking time.
Most Helpful
Loved this recipe. I did not want the dish to be overwhelmingly sweet so I used a smidgen less sugar and unsweetened coconut with great results. Definitely will be making this again it was easy and worthy of seconds maybe even thirds!!
These were absolutely wonderful. Made them pre Thanksgiving to try them out and they were great! I don't like super sweet , so I decreased the sugar a bit (used coconut sugar from Whole Foods-supposed to be lower glycemic) and left out the marshmallows. The coconut added a bit of sweetness and a lot of flavor, but is not overwhelming coconut flavor. Added extra pecans. DELICIOUS! Making for Thanksgiving tomorrow and I'm sure it will get raves. Also, great to use the crock pot and have 1 less thing that needs to go in the oven!