Pecan Coated Salmon Fillet
T-Logan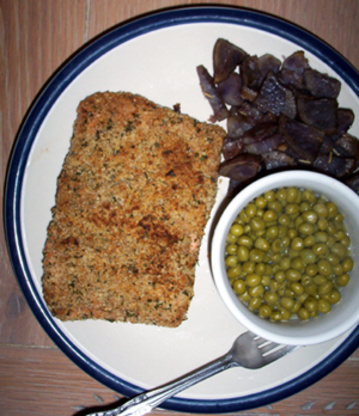 Nice and easy to prepare. Good for company. Nice presentation. Served with spinich salad, green beans with red peppers and almonds and boiled baby potatoes..It was a hit!!
Combine breadcrumbs, pecans and parsley in a shallow dish and set aside.
Mix mustard and honey in a small bowl and set aside.
Add enough water to thin the honey mustard mixture.
Season each salmon filet with salt and pepper to taste.
Brush the top of each filet with mustard mixture and lightly dip in the breadcrumb mixture.
Place each filet coated side up on a baking dish sprayed with nonstick cooking spray.
Bake at 450 degrees for 10 minutes per inch of thickness or until fish flakes easily with fork.