Pecan-Coated French Toast With Berry Sauce
mliss29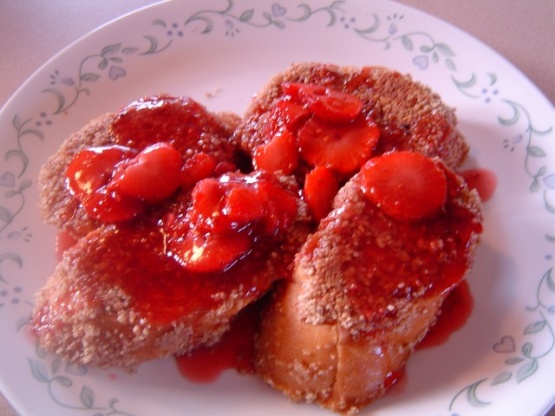 Finely-chopped pecans coat thick slices of challah or French bread and it is all topped with a delicious raspberry-strawberry sauce. It's like eating dessert for breakfast! Yummy! So easy to make and tastes great. Made for RSC #11 contest.

Now, I ask you (actually, I'm telling you!), how much better can a breakfast be than when eating this ABSOLUTELY GREAT FRENCH TOAST! Definitely a keeper, especially for when those special guests wake up in the morning! Thanks so much for a great recipe! [Tagged, made & reviewed in Please Review My Recipe]
In a small saucepan, heat the preserves and 1/4 cup water over medium heat.
Stir in the strawberries and heat for a minute or two and remove from heat.
Using a food processor, finely chop the pecans and transfer to a large bowl.
In a medium bowl, beat the eggs, milk and vanilla.
Add the bread and soak until saturated.
In batches, transfer the bread to the pecans, heavily coating each slice.
In large, heavy skillet, melt 2 1/2 tablespoons butter over medium heat.
Working in batches, add the pecan-coated bread and cook, turning occasionally, until golden, about 5-6 minutes per side.
Repeat with the remaining butter and bread slices.
Serve warm with the raspberry-strawberry sauce.
Sift confectioners' sugar over toast.
Serve immediately.