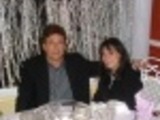 A glorious, giveable holiday treat with a minimum of effort and a maximum of impact. Requires 30 minutes of standing time, which is not included in the preparation time.
Directions
Microwave chocolate in 8-inch glass baking dish uncovered on high power about 1 minute; stir. Microwave, stirring after 30 seconds, until melted, about 1 minute. Add pecans and stir to coat.
Line baking sheet with waxed paper. Using soup spoons, drop pecans in 24 mounts on waxed paper. Let stand until hardened, refrigerating if necessary. Store in airtight container in refrigerator up to 3 weeks.
Reviews
Most Helpful
It couldn't get any easier than this!!!! Fabulous!!!! DH's favorite Christmas goodie!!!!
I had a bunch of pecans and was looking for something different to do with them other then my normally sugar coating. This was so easy to make and very yummy! I followed the recipe exactly as written.

I really wish that I could give this simple recipe 10 stars. I used the amounts for 1 dozen and got 17 heavenly pieces. The pecans were toasted for 10 mins @350F at which time they were browning and their aroma was Divine. I chose dark (but not bittersweet) chocolate which worked beautifully for me but these could be so easily made with any chocolate that you prefer. I promise you that if you make these clusters for a holiday (or at any time of year) they won't be around for long, so think ahead and make lots!