Pecan Cheese Cheese Squares
alligirl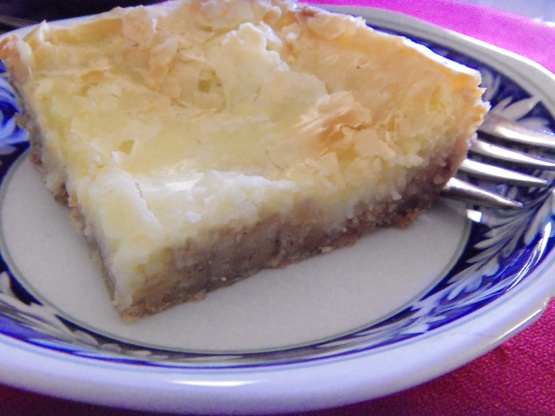 Makes for a nice afternoon snack, for snack.

Made this this weekend. They are yummy. I think the original title of this recipe is Pecan Cream Cheese Squares. I found it in the February/March 2000 issue of Taste of Home. It was submitted by Dorothy Pritchett who says, "This rich, easy dessert is perfect after a light meal." I made it with chopped mixed nuts instead of just pecans, and it turned out well. Got many comments.
In a large bowl, beat the dry cake mix, 1 egg and butter until blended.
Stir in pecans, and then press into a greased 13x9 inch baking pan, and set aside.
In a small bowl, beat the cream cheese, sugar, and the remaining eggsuntil smooth, and then pour over the pecan mixture.
Bake at 350 degrees for 45-55 minutes or until golden brown.
Cool on a wire rack, and cut into 36 squares.
Store in refrigerator.