Boomette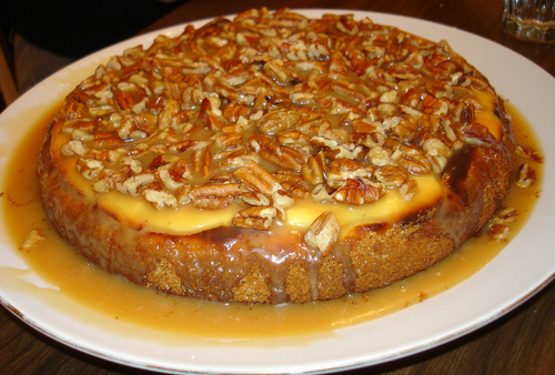 This is a recipe that comes from (CHOW Vol.1#4, pg.41). This is delicious.
More than delicious, this is verging on decadent, if it hasn't already gotten there! This was a WONDERFUL & most enjoyable cheesecake, as some of my neighbors can attest, since I shared it with them! Was hesitant about the sea salt, but added it anyway! Definitely a keeper! [Tagged, made & reviewed in Beverage Tag]
Preheat over to 350. In a medium bowl mix the crust ingredients (graham cracker crumbs, butter, sugar) until thouroughly combined. Press the mixture into the bottom of a 9-inch springform pan.
For the cheesecake, mix the cream cheese and sugar until well incorporated. Add the eggs one at a time, and mix completely after each addition. Add the vanilla extract and mix until blended.
Pour the cheesecake mixture into the pan. Bake until ready (about 40 minutes). Let cool completely.
For the caramel, combine the sugar and 1 tablespoon of water in a small saucepan. Place over medium-high heat and bring to a boil. Let boil until amber in color. Immediately add the butter and stir to incorporate. Remove from heat, add the heavy cream, and mix well. Let cool to room temperature.
Pour the caramel over the cheesecake and scatter the pecan and sea salt over the top.