Derf2440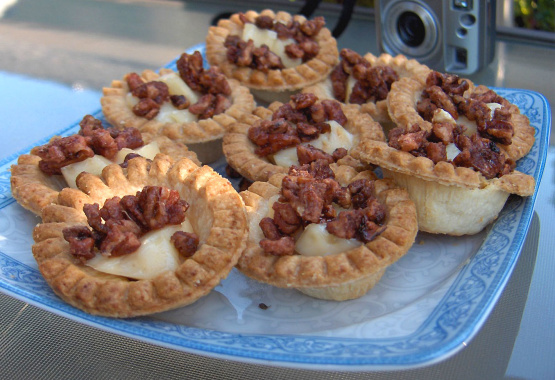 These versatile tarts are wonderful on a buffet table or as a starter or appy and equally as good for dessert with a nice wine.

Tried these out at a holiday party, and they were a hit. I couldn't find pre-made frozen tart shells, so I used a biscut cutter, a mini muffin tin, and a few rolled out pre-made pie shells for the tarts. Note: prick the tart shells befor cooking, or you will end up with tart puffs instead of cups. As for the brie, I used Aloutte rindless packaged brie (fussing with slicing off the rind is a time wasting pain). I also doubled the nut topping mixture (I ran out on the first try of making these). Although I served as an app., next time I would serve with wine after dinner. Great recipe.
24

prepared tart shells (or buy ready made uncooked tart shells, the bought shells work very well)

1

(4 1/2 ounce) package brie cheese

3

tablespoons finely chopped pecans

3

tablespoons packed brown sugar

2

tablespoons whiskey or 2 tablespoons apple juice
Bake tart shells blind, or if bought according to directions on package.
Divide brie into 24 wedges and place in baked tart shells.
In a saucepan, heat pecans, sugar and whiskey over medium heat, stirring until bubbly.
Reduce heat and simmer for 1 minutes or until thickened.
Working quickly, spoon pecan mixture over Brie.
(Tarts can be covered and refrigerated for up to 1 day. Remove from refrigerator 30 minutes before baking). Bake in 375°F oven for 10 minutes or until hot and bubbly.