Pecan Apple Strudel Cake (Gluten Free)
UmmBinat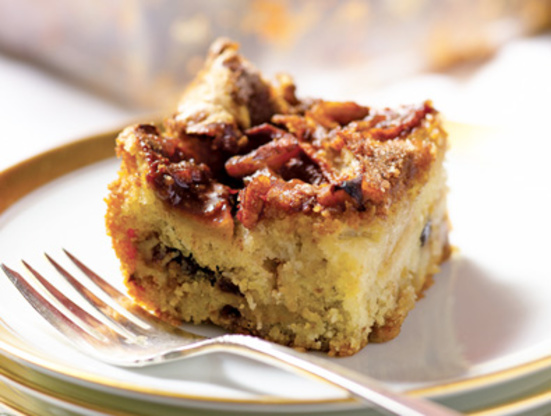 Top Review by PaulaG
This is amazing. The cake was baked in an 8 inch square pan and easily serves 9. This is a moist and deliciously flavored cake. No one would ever guess that it is gluten free. I used 1 1/2 granny smith apples with the peel on. During the clean up phase I realized that the chopped nuts for the batter were still sitting on the counter but they weren't missed. This was served at room temperature with homemade vanilla bean ice cream on the side.
Preheat oven to 325°F.
Prepare a small deep pan by greasing and dusting with white rice flour.
Mix all strudel ingredients in a small bowl and set aside.
In a medium bowl, sieve together all the dry ingredients. (except strudel and apples).
Add the wet ingredients and mix with a wooden spoon.
Add the chopped apples and stir to combine.
Scoop half the batter into the prepared pan.
then layer half the strudel mixture on top of the batter.
Add remaining batter and then remaining topping.
Place in the oven and bake approximately 1 hour, or until a toothpick inserted in the center comes out clean.
Cool at least 10 minutes before serving. I like it better cooled down to room temperature even more.
Enjoy!