Pecan and Pineapple Squares
Dorel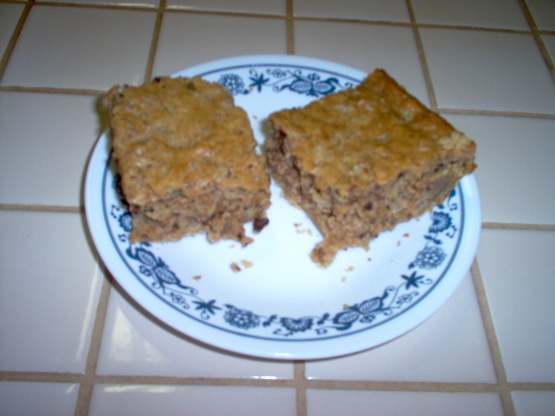 Have been making this slice for years. One of those family recipes that has always seemed to have been around. Great for lunches.

Top Review by Dorel
The flavour of these was good. When baked the slices were about 1/14" to 1 1/2" think. You didn't specify a pan size. I googled slice tray and they come in different sizes. I put in a request for anyone who could give me a pan size. No one was sure. I used an 8"X11" pan but it took an extra 15 minutes to bake. I think a pan about 9 1/2" X 13 1/2" would have been better. It would be helpful if you could put pan sizes in your recipes.Thanks.
Combine flour and sugar in bowl.
Rub in butter until mixture resembles breadcrumbs.
Stir in pecans.
Press 2 cups of the mixture into a greased slice tray.
Blend together baking soda, cinnamon, egg, sour crem and vanilla.
Add to remaining mixture combining well.
Stir in well drained pineapple and sultanas.
Spread mixture over the base.
Bake in moderate oven for about 35 minutes or until cooked when tested.
Cool in pan before cutting into squares.