Pears With Maple, Walnuts and Gorgonzola
jenne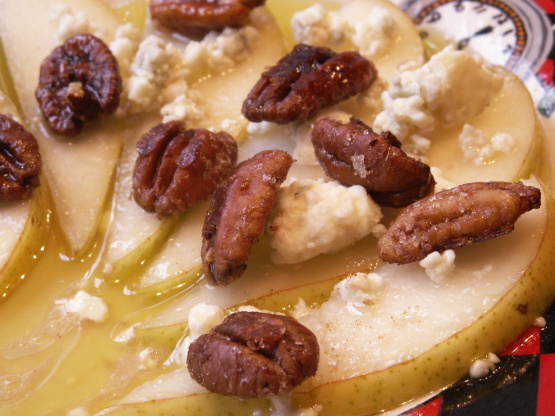 We often serve this after dinner in place of a cheese course. I don't remember for certain, but I think it's a Martha recipe.
Preheat oven to 375 degrees.
Mix sugar and salt in a small bowl and set aside.
Saute butter and maple syrup in a large pan, and bring to a boil.
Remove from heat. Add nuts and toss to coat.
Transfer nuts to a rimmed baking sheet.
Sprinkle with sugar mixture. Toss to coat.
Toast in oven until fragrant, about 7 minutes.
Let nuts cool completely on sheet.
To serve, arrange candied nuts, pear wedges and gorgonzola on a serving platter.