2Bleu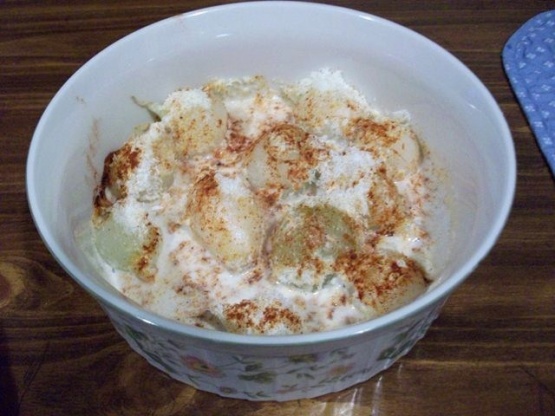 The sauce thicken at the bottom while at the top stayed thin. I suggest making a basic white sauce a (Bechamel) then pour it over the onion and cheese and just place under the broiler to slightly brown and bubble. The only change I made was to use no salt because of all the parmesan cheese. 1/4 of sodium in one side is a bit much for the day. So take this as a treat and have a smaller amount. Thanks I will make this again with a Bechamel made first. Thanks.
Preheat oven to 300°F Bring a medium sized pot of water to a boil. Cook onions in boiling water covered about 2-3 minutes.
Remove onions from water and plunge into ice water; peel. Arrange onions in a lightly greased 1 qt baking dish.
Combine remaining ingredients except paprika in a small bowl. Pour mixture over onions, then sprinkle with paprika. Cover and bake 25-30 minutes, stirring halfway through the cooking time.