Pearl Onion Mushroom Bake
Parsley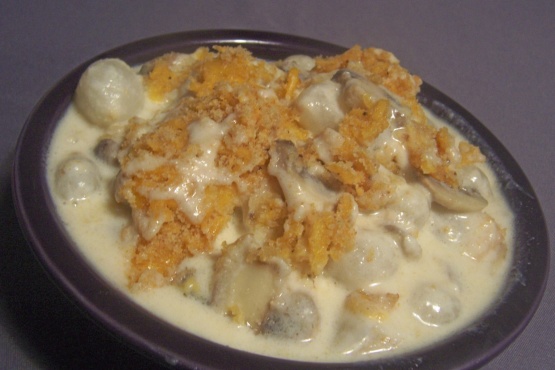 This side dish goes great with turkey or ham. It is a make ahead recipe for two separate casseroles that can be frozen until ready to bake. Perfect addition to a holiday meal. If baking from frozen, allow time to defrost (not reflected in cook time).

Top Review by Manami
Hello shelbyrose, 1 lb of frozen pearl onions is what we used, kicked-it-up a notch by adding salt, black grnd pepper, & a sprinkling of crushed red pepper. Used a spicy cheddar, mild cheddar combination. It is a great dish as is, but for "our tastes" I just added the above. I love onions and mushrooms, and this just gives us a new way to prepare them! Thank you muchly(sp?) for posting, Diane :)
In a saucepan combine the onions, water and salt.
Cover and cook for 20 minutes or until crisp-tender; drain.
Transfer to two (2) greased 1 quart baking pans; set aside.
In a skillet, saute mushrooms in 4 tablespoons butter and lemon juice.
In a small saucepan, melt 4 tablespoons butter; stir in flour until smooth.
Gradually add milk.
Bring to a boil; cook and stir 2 minutes or until thickened.
Stir into mushroom mixture.
Pour over each onion casserole, dividing equally.
Melt the remaining butter.
Add cheese and bread crumbs; toss to coat.
Sprinkle over each casserole.
Cover and freeze, if desired, for up to 3 months.
TO USE FROZEN CASSEROLE: Thaw in the refrigerator 8 hours.
Cover and bake in a 375 degree oven 15 minutes.
Uncover and bake an additional 10 minutes or until golden brown.