katew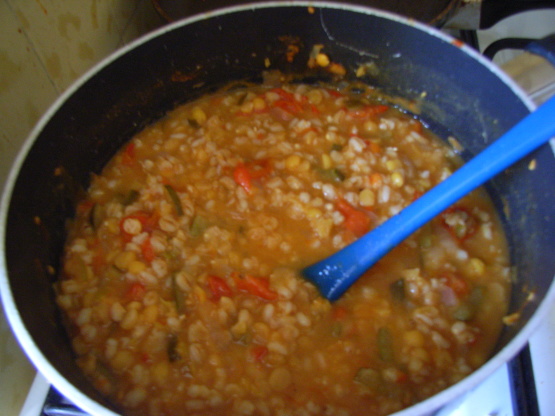 I saw this recipe being made on the Cook and the Chef. I was so in awe of this recipe I just have to try it. Slow and good old-fashioned comfort food! I have to try this very soon, served with crusty bread on a cold night......nothing better!

Top Review by katew
I can't wait to eat this soup tonight. I have had my spoon in it already. It will need a little more stock added prior to serving I think as I halved the recipe but used a 3/4 cup barley to finish the packet up. I used zucchini instead of swede and had no cabbage or brussel sprouts but will add a handful of fresh herbs before serving. We will have it with crusty bread - can't wait !!
1

large carrot, diced

2

sticks celery, diced

10

small baby onions, peeled and whole
1⁄2 leek, chopped

1

swede, diced small

2

sprigs thyme
1⁄2 cup barley, parboiled (boil in water 20-30 minutes and drain)

2

liters vegetable stock

6

tomatoes, peeled & chopped
1⁄8 cabbage, chopped very finely

1

tablespoon dry sherry
1⁄4 teaspoon ground coriander
1⁄2 cup peas

6

Brussels sprouts, blanched and cut into quarters lengthways
1⁄4 bunch parsley, chopped

3

tablespoons parmesan cheese, grated
Saute carrots, onions, leek and celery in a little oil for a few minutes. Add swede, bay leaves and thyme. Then add barley and stock, and season with pepper.
Bring barley soup to the boil and add tomatoes. When the barley soup is almost cooked, add the cabbage.
Add the sherry and coriander. Remove bay leaves.
In each serving bowl, add the peas and brussels sprouts and pour the hot soup over.
Top each bowl with a sprinkle of fresh parsley, black pepper and grated parmesan.
Serve with crusty bread.