Pear Upside-Down Gingerbread Cake
Kathy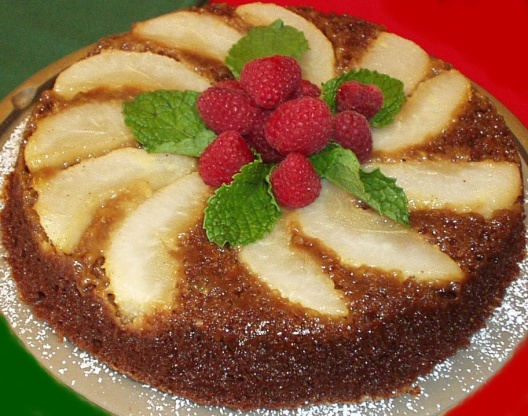 I found this recipe in a magazine several years ago and finally made it last month. It is a very pretty gingerbread cake that tastes delicious.

Loved this! It's not only delicious, but beautiful. I thought the cake would dense but it had the consistency of sponge cake, nice and light. I loved the fresh zing of the ginger pear combo and it wasn't overly sweet.I baked it in a black cake pan lined with parchment paper and took it out at 30 mins. Perfect! Thanks for posting the keeper.
Heat oven to 350 F Peel, core, and slice pears lengthwise into 1/4" slices.
Combine 1 Tbls ginger, lemon juice, and pear slices.
Coat a 9" x 2" round cake pan with cooking spray; sprinkle with granulated sugar.
Arrange pears in bottom of pan in a circular pattern.
Combine brown sugar and butter in a large mixer bowl; beat at medium speed until well blended.
Beat in egg.
Add buttermilk, molasses, and 1 Tbls ginger; beat until well blended.
Combine flour and remaining ingredients EXCEPT powdered sugar.
Add flour mixture to batter; stir until well blended.
Pour over pears.
Bake 40 minutes or until cake springs back when touched lightly in center.
Cool in pan 20 minutes on wire rack.
Sprinkle a serving plate with powdered sugar.
Invert cake onto serving plate.
When completely cool, garnish with mint leaves and raspberries.