TnuSami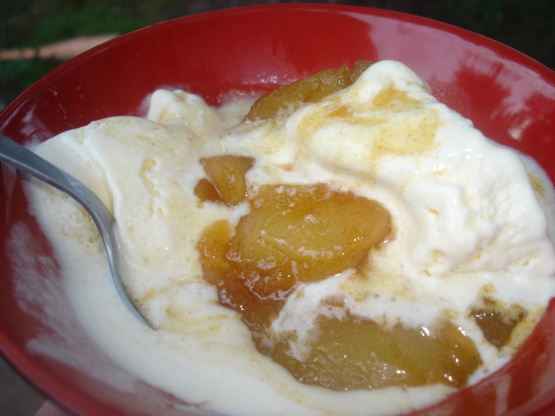 This one came from TOH. It looked like a delicious way to use the pears I found in the back of the cabinet. It says "serve warm" so I'm thinking that it will become a rich comfort food to serve with ice cream.

Oh, my!! This was sooooo delicious!! The combination of warm, rich pears with the cold, creamy ice cream was perfect! I did use regular ice cream. The kids and I loved it and I'm looking forward to having more tomorrow!! We made this in honor of Amy's birthday.
In a saucepan, combine the brown sugar, butter and cinnamon. Cook and stir over medium heat for 5 minutes or until butter is melted.
Drain pears, reserving 1/2 cup juice (you can discard the remaining juice). Add the pears and reserved juice to the saucepan.
Cook 8-10 minutes or until heated through. Serve warm over ice cream.