Pear, Pecorino, and Prosciutto Panini
Redsie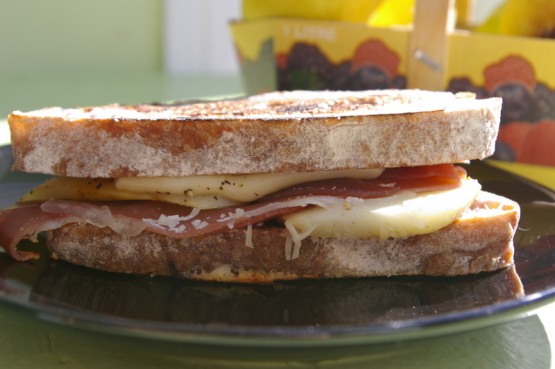 A Cooking Light recipe - slightly adapted and delicious.

Top Review by Redsie
This panini is so delicious!! Didn't add any sugar as my pears were quite ripe. Used a loaf of nut bread I had instead of foccaccia. Loved loved loved the mix of prosciutto, pear and fresh parmesan!! Thanks evelyn - can't wait to make this again!! :)
Heat a nonstick skillet over medium-high heat. Add pear to pan, and sprinkle with sugar. Cook 2 minutes on each side or until golden.
Brush cut sides of bread with vinegar. Arrange pear slices, arugula, cheese, and prosciutto evenly over bottom half of bread. Sprinkle generously with freshly cracked pepper. Cover with top half of bread.
Heat a large nonstick skillet over medium heat. Add stuffed loaf to pan. Place a cast-iron or heavy skillet on top of stuffed loaf; press gently to flatten. Cook 4 minutes on each side or until bread is toasted (leave cast-iron skillet on stuffed loaf while it cooks). Cut into quarters.