NELady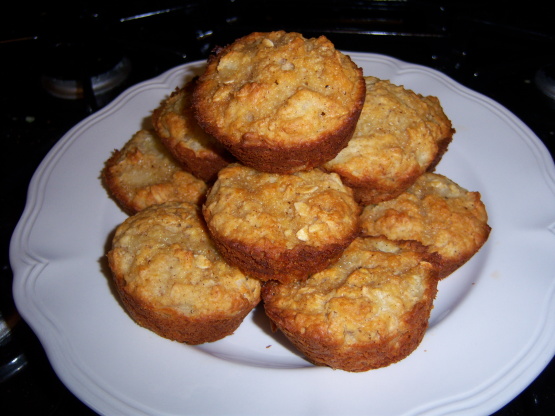 A recipe from Ricardo. It's a recipe for diabetic people. It doesn't have sugar but has honey to sweeten them.

Top Review by NELady
I've never had pear muffins before, so I didn't know what to expect. They were pretty good! The batter didn't rise much in the muffin pan, so my muffins turned out a little short and I made 18 muffins instead of 12. This could be easily corrected by evenly distributing all of the batter amongst the twelve muffin tins... that is what I will do if I make these again. I loved the hint of cinnamon and nutmeg. Would be extra tasty with a dollop of sugar-free Cool Whip! Made for Photo Tag, 1/25/09 - NELady.
Put the rack in the middle of the oven. Preheat at 350°F Grease 12 muffin tins or use paper cup.
Drain pears, reserve the juice and cut the pears in dice. You should have 3/4 cup of juice, if not add water to have 3/4 cup liquid.
In a large bowl, mix dry ingredients. Set aside.
In another bowl, mix honey and butter with a whisk. Incorporate the eggs, pear juice and pears. Pour on the dry ingredients and stir delicately with a fork just enough to wet the flour.
Distribute the dough in the muffin tins. Sprinkle with almonds and put a dash of honey on top.
Cook in oven for about 30 minutes or until a tooth-pick inserted in the middle comes out clean. Unmold and let cool on a rack.