Pear Gingerbread Pudding.
Annacia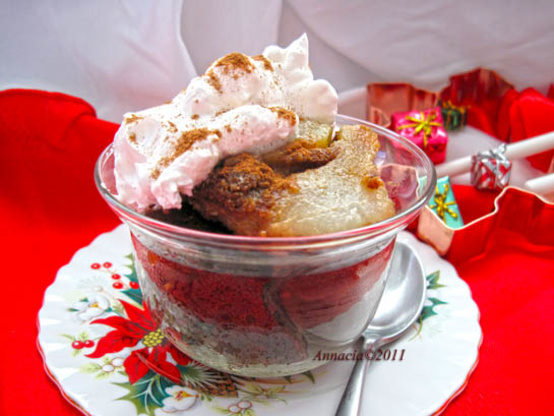 I got this from the Montreal Gazette a few months ago, and made it twice, once for a Christmas/Hannukah party with friends, and once for a Hannukah dinner with my family. Since I'm not a big fan of ginger, nor I use it often, I substitued nutmeg for the ginger. The recipe calls for fancy molasses, but I used plain molasses since I had it already, and I added an extra pear. It's up to you to follow the recipe as you please, but the dessert was a big hit both times that I made it, and I don't know why I waited this long to share it.

This is a treat for any gingerbread lover. It's simple to make and will be loved by the whole family. A warm dessert is welcomed in winter and this pear gingerbread pudding is something that you don't find everyday. The texture is like a mix of a soft pudding and a baked gingerbread which is unique and yummy. Mine was done at 22 mins. I'm so glad that I tried this. :D
Grease an 8 inch square (2L) glass baking dish. Spread pears in dish and drizzle honey over it. Set aside.
In a large bowl beat butter with sugar until fluffy. , then beat in molasses and egg. (The secret to loosening molasses is to let it sit in a small bowl of warm water. I learned this from a cooking show and it works like a charm.).
In a separate bowl, whisk together flour, ginger, cinnamon, ground cloves, baking soda and salt. Stir into molasses mixture and alternately with hot water, making three additions of dry ingredients, and two additions of water. Pour over pears.
Bake in a preheated 350 F degree (180 C) oven until straw or cake tester inserted in center of cake comes out clean. Serve warm. They say it takes about 30 minutes, but from my personal experience, in order for the straw or cake tester to come out clean it has to be in the oven between 40-45 minutes.