Pear Cardamom Bread (Light)
Annacia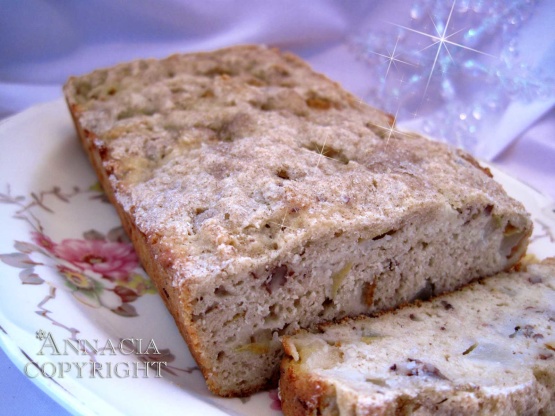 What a great flavor match the pears and cardamom are. I used a 9x5 pan as it looked like I had plenty of batter to make a nice loaf in that size. Something went amiss somewhere because it just didn't rise. It was the same size after baking that it was when it went into the oven even though the batter was light and "spongy" of "foamy" looking when it went into the pan. I'd use nothing bigger than an 8x5 next time around. Thats said it was still really yummy, a pleasure to munch, and I appreciate the low far and sugar content a lot :D
Preheat oven to 350 degrees; spray a loaf pan with non-stick cooking spray.
Mix all bread ingredients in a large bowl.
Pour into prepared pan; mix topping ingredients and sprinkle on top.
Bake for 45 to 50 minutes or until a toothpick inserted off center comes out clean.
Allow to cool 10 minutes, remove from pan and allow to cool completely for 1 hour.
Enjoy!