Pear, Blue Cheese, Walnut and Bacon Salad
Ambervim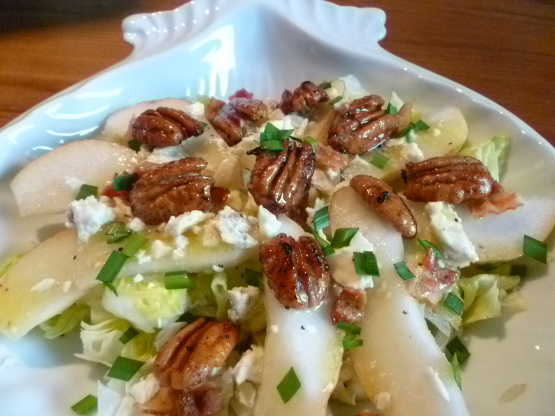 A fresh change of taste. The amount of servings depends on the additions and naturally, whether it's served as a side or main meal.

I made a vegetarian version of this salad, obviously by leaving out the bacon and chicken...and it was fantastic! I really really loved it, from the delicately candied walnuts to the creamy blue cheese - mmmm, I wish there was some left over. This would be a fabulous salad to serve on a special occassion - but certainly not that time intensive that you couldn't make it any old time. If I were to change anything, I might just double up on the ingredients to 'candy' the walnuts - they were so darn good I would like a bit more of that flavour in the finished product. Be careful with your pears, sliced thinly they are super delicate. Thanks GailAnn!
For the vinaigrette

4

tablespoons olive oil

1

tablespoon fresh limes or 1 tablespoon lemon juice

1

teaspoon white wine vinegar
1 1⁄4 teaspoons Dijon mustard or 1 1⁄4 teaspoons whole grain prepared mustard
1⁄4-1⁄2 teaspoon maple syrup or 1⁄4-1⁄2 teaspoon honey

2

teaspoons finely minced green onions
salt and pepper

For the walnuts

1

cup walnut halves
1⁄2 teaspoon butter

1

teaspoon maple syrup or 1 teaspoon honey

1

dash cayenne or 1 dash hot smoked paprika

For the salad

1⁄2 lb arugula, mesclun, romaine, mache, spinach (whatever may be your preference)

3

firm bartlett pears, washed, cored and sliced into very thin wedges (skin remaining)

4

ounces blue cheese, crumbled (gorgonzola, Stilton, etc.)

2

slices bacon, cooked until crisp and well drained
1⁄2-1 lb cooked sliced chicken (optional)
Whisk together all vinaigrette ingredients until well blended; set aside.
In a small frying pan set on a medium heat, melt the butter, stir in the maple syrup or honey and then stir in the walnuts. Continue to heat the walnuts, stirring continuously, for approximately 2-3 minutes or until they are fragrant, caramelized and lightly browned. Remove from the heat; set aside.
Place the greens in a large salad bowl or, if individual servings are preferred, distribute them equally among 6 salad plates. Sprinkle over the pears, blue cheese and walnuts. Place over chicken then drizzle with dressing and toss.
Note: I find having the chicken warmed is superior to cold chicken.