Prep 1 hr 30 mins
Cook 0 mins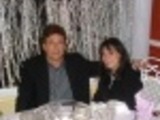 This tastes like autumn, but is great any time of year. If fresh pears are not in season, you can use canned pear halves packed in light syrup. Just drain four 16-oz. cans, puree in blender or food processor and simmer with remaining ingredients as directed. This spread is delicious on toast or muffins. It will keep up to 1 month in the refrigerator, so it would make a great gift come holiday season.
Directions
Put pears and water in a heavy 3-quart saucepan. Cover and simmer over medium-low heat about 20 minutes until pears are tender, stirring occasionally. Drain.
Process in 2 batches in food processor or blender until smooth. You will have about 4 cups puree.
Pour back into same saucepan. Stir in remaining ingredients. Bring to a simmer over medium heat. Reduce heat to low. Cover pot, leaving lid slightly ajar, and simmer about 1 hour until mixture is shiny and very thick, stirring often.
Spoon into clean hot jars. Cover tightly, cool and refrigerate.
Reviews
Most Helpful
Nice tasting recipe as we all enjoyed this on some toast and muffins this morning.. The kids were actually disappointed because they only made a couple pieces of toast, then had to catch the bus. But knowing there is plenty left they are looking forward to tommorow. No changes were made to this and definately worth making. :) Made for PRMR>>