Prep 15 mins
Cook 20 mins

Pears and walnuts pair up so well together! Anjou or Bartlett pears work well for this recipe. Adapted from Cooking Light magazine(Jan/2006). Enjoy!
Directions
Preheat oven to 400*F.
Place walnuts in a food processor, process until finely ground.
Gently spoon flours into dry measuring cups, level with knife. Mix flours, baking powder, baking soda and salt in a medium bowl, stir well with a whisk. Stir in ground walnuts. Make a well in center of mixture.
Combine brown sugar, oil, vanilla, yogurt and egg in a small bowl, add to the flour mixture, stirring just until moist. Fold in diced pear.
Spoon the batter into 15 muffin cups coated with cooking spray. Mix together sugar, cinnamon and ginger powder in a small bowl. Sprinkle batter with cinnamon/ginger sugar. Bake at 400*F. for 20 minutes or until muffins spring back when touched lightly in center. Remove from pans right away. Place on wire rack. Serve either warm or at room temperature. Enjoy1.
Reviews
Most Helpful
I love when you can get a wonderful tasting muffin while using healthier ingredients. This muffin recipe is a winner. I loved the moistness of the muffins and the flavors were perfect. Thank you!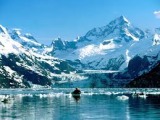 These are such a welcome trea this time of year using winter pears. I didn't bother pealing the pears either. Left the delicious brown skins right on. I also used coarsely chopped toasted almonds in place of the walnuts. I got 12 nice size muffins. I like using just 2 T. of oil too. Makes em a little more LF than a normal muffin and the vanilla yogurt was a welcome addition for perfect moistness. Made in memory of Sharon's DH in KK's forum.
My boss has a pear tree. He brought in a bushel of pears to the office. I brought a dozen home. I ate a few of them and it wasn't until I found this recipe that I figured out what to do with some of the other pears. I doubled the batch & used the vanilla yogurt. They are fantastic. I froze some so they would not disappear immediately.The most moist & delicious muffins ever.