Pear and Raspberry Frangipane Tart
Kathy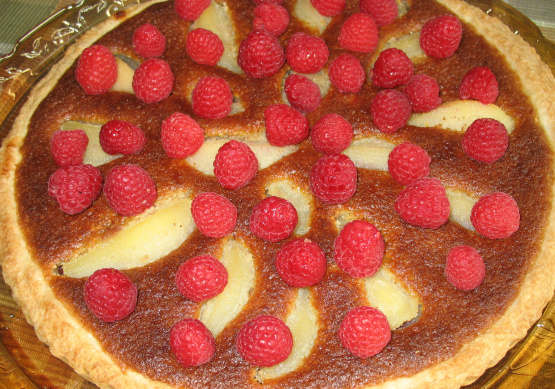 A very pretty dessert that is fairly quick and easy to make.

This was pretty good. If I made it again however, I would reduce the amount of almond extract as it was a bit overwelming. I think I would also use a smaller pan and cook it a little longer at a lower heat. The smaller pan would make the filling a bit thicker which would be good.
Heat oven to 400°F.
Crust: In a large bowl or food processor, combine flour and sugar.
Cut in butter until mixture resembles coarse crumbs.
Gradually add water until dough forms a ball.
Knead 2-3 times until smooth.
Press dough into bottom and up sides of an ungreased 10" tart pan with a removable bottom.
Spread jam evenly over bottom of dough.
Filling: Place almonds in food processor; process until almonds are finely chopped.
Add butter, sugar, and flour; process until blended.
Add egg and almond extract; mix well.
Drain pears, RESERVING 1/4 CUP LIQUID.
Add 1/4 cup liquid to almond filling mixture; blend until smooth.
Spread in crust.
Arrange pear slices over filling.
Bake 35-45 minutes or until crust is lightly browned and top is a deep golden brown.
Cool 90 minutes.
Garnish with fresh raspberries and powdered sugar.