Pear and Prosciutto Salad
Sageca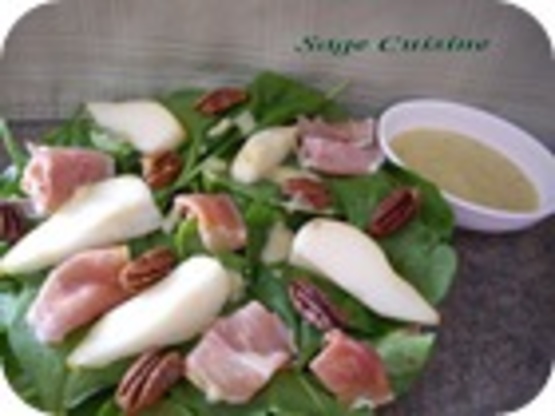 Pear and Prosciutto were made for each other; that sweet and salty make your taste buds very happy. You can prepare a small salad to serve as an entrée or a larger one for lunch with a fresh dinner roll.
Cut pears in half and core them.
Peel one pear half, chop into cubes and place in a blender with the vinegar, mustard, salt and pepper. Puree until smooth. With the blender running add the olive oil; set aside.
Cut remaining (unpeeled) pear halves into thin slices and place into a large bowl with the spinach.
Pour the dressing over the top and gently toss.
Place greens and pears onto each plate.
Top each with 1/4 of the prosciutto, candied pecans and serve.