GaylaJ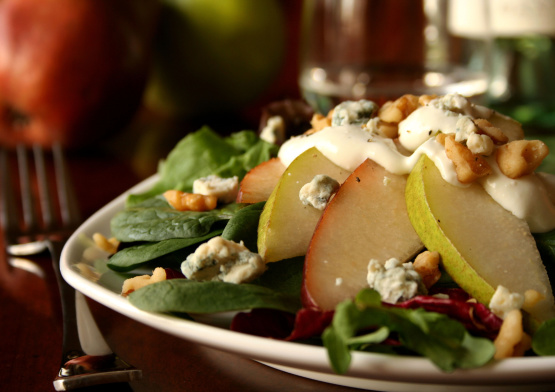 If you love blue cheese, you will enjoy this quick and easy salad. The salad is topped with a creamy dressing and additional crumbled blue cheese. I have used pears and/or apples to make this salad, walnut and pecans both equally good.
1

(100 g) package blue cheese, crumbled, divided

2

ounces cream cheese, at room temperature
1⁄4 cup 2% low-fat milk, more if required

6

cups mesclun or 6 cups other mixed salad greens
1⁄2 cup nuts, toasted and coarsely chopped
Whisk together in a small bowl, half the blue cheese with the cream cheese and milk until well combined. If you find the dressing too thick add a little more milk. May be made ahead and refrigerated. (If you buy the crumbled blue cheese you will need a 175g package).
Place 1 cup of the mesclun mix on individual salad plates.
Cut pears in half, remove core and cut into wedges.
Arrange pears on top of greens.
Drizzle dressing over pears. Top with remaining blue cheese, nuts and pepper.