Kree6528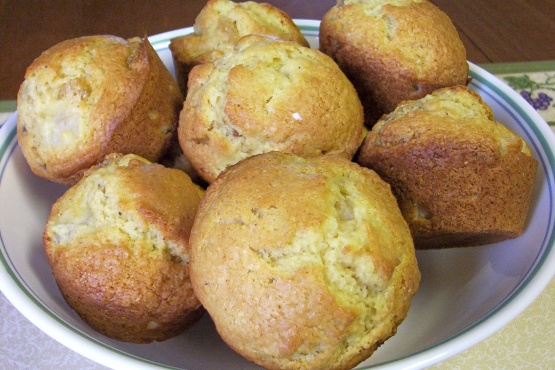 If you love ginger, you'll love these. If you don't - you can just omit the ginger. The mixture of dried and fresh pears is just perfect - the fresh ones give it moisture, the dried ones intense pear flavour. This recipe is from Starbucks' Passion for Coffee book.

Yum! I picked this recipe to burn up some overripe pears, and it's a keeper! I did sub the dried pears for extra fresh and the candied ginger for about a tsp of ground, but the original ingredients sound like a very good mix and I would plan on trying them when I can get to the store. Also, I experimented and made a ginger glaze for a few of them which turned out quite excellent - boil two or three parts sugar to one part water with a squirt of lemon juice and a few dashes of ginger, then drizzle over tops of hot muffins.
Preheat oven to 400 F and grease muffin tin.
Put the dried pears in a small bowl and pour over some boiling water. Let stand for 15 minutes.
Drain pears and dry with a paper towel. Cut into small pieces(about 1/2 inch).
Peel and core the fresh pear, and chop into similar pieces.
In a new bowl, mix dry incredients.
In another bowl, whisk together rest of the incredients (including the pears).
Mix dry and wet incredients, stir until mixed but don't overdo it. The batter will be lumpy.
Fill the tins about 2/3 full. Bake about 20 minutes.
Cool 5 minutes in the tin, then on a wire rack.