Pear and Blue Cheese Tartlets
Ms B.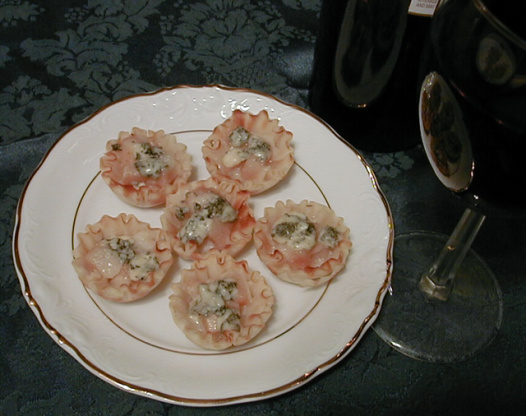 This comes from Anne Byrn's new cookbook "The Dinner Doctor". Quick and Easy and very impressive appetizer. I used Bosc pears and Clemson Blue blue cheese. These were wonderful.

love these! added some dried cranberries in too for a nice mix of flavors. froze the leftovers and popped them in the toaster oven for snacks later on.
Preheat oven to 350.
Place the frozen phyllo shells on a rimmed baking sheet.
Melt the butter in a small skillet over medium-high heat.
Place the pears in the skillet and cook, stirring for 1 minute to soften slightly.
Sprinkle the sugar over the pears and let cook, stirring until they are completely soft, 2 minutes longer.
Remove skillet from heat.
Place 1 teaspoon of the pears and their juice in each phyllo shell.
Top with a cube of blue cheese.
Bake the tartlets until the cheese melts and the shells are crisp and golden brown 7 to 8 minutes.
(You can also sprinkle finely chopped walnuts over tartlets before baking if desired).
These tartlets can be made 1 day before and reheated in an oven at 350 degrees for 3 to 4 minutes.