Pear and Blue Cheese Puffs
Leslie L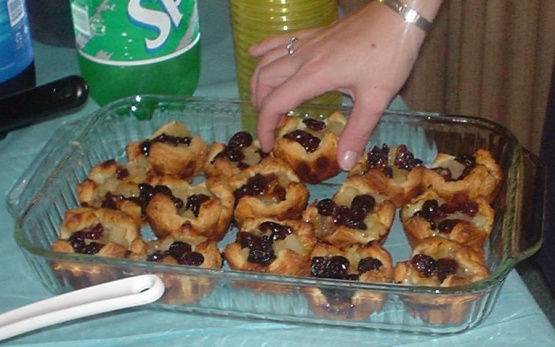 I made these for New Year's Eve appetizers and they were wonderful. Lovely blend of flavours and textures. Gone in no time at all - best make up a double batch.

These are such a great, easy, elegant idea! We enjoyed them, but next time I will use a more tart type of pear, then add another tablespoon of sugar to balance the flavors. I also added some lemon zest just to brighten the aromas. Thanks so much!
Preheat oven to 400F.
Toss pears in sugar.
Set aside.
Roll pastry out into a 14 inch square on a lightly floured board.
Cut into 36 equal squares.
Place each in a mini muffin pan.
Place equal amounts of pear and blue cheese in pastry lined pans.
Top each with 2 or 3 dried cherries or cranberries.
Bake for 12 to 15 minutes, until puffed and golden.
Serve warm.