Rita~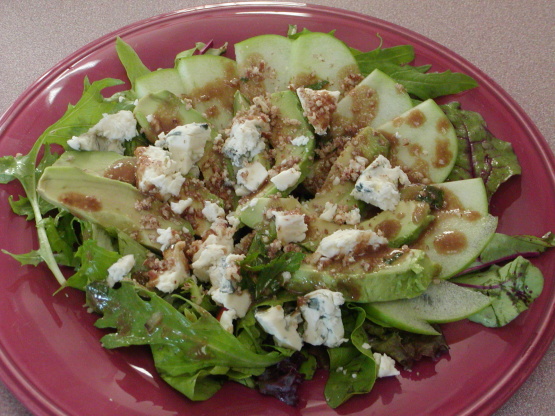 This is a unique and interesting combination of pears and avocados that I ran across while looking for salad recipes in my cookbook collection. I made it and was surprised by the resulting tangy sweet salad that blended flavors very well.

A delicious salad which I'll certainly make again and again: a great summer dish. And very quick to prepare. I wasn't too sure what bartlett pears are, so since the ones I had bought were average pear-size, I just used two. I arranged the slices of pear and avocado on a bed of baby spinach leaves and red lettuce leaves, and sprinkled chopped pecans and feta (since it's what I had on hand) on top. A really tasty dressing which complemented the salad beautifully: I used walnut oil and Dijon mustard. Thank you,.::.Blink.::., for sharing this delightful recipe, which was very well received by those (who are not generally big salad eaters), whom I served it to!
Halve and core the pears.
Slice them thinly and brush with lemon juice to stop discoloration.
Cut the avocados in half, remove the pits and peel them.
Carefully cut each half into five slices.
Also brush with lemon juice to prevent discoloration.
Place watercress and arugala on plates to be served and arrange pears and avocados on top.
Sprinkle chopped nuts on top.
For the dressing combine all dressing ingredients in a jar and shake.
Spoon dressing on top and crumble the cheese on top of it all.
Serve immediately.