twissis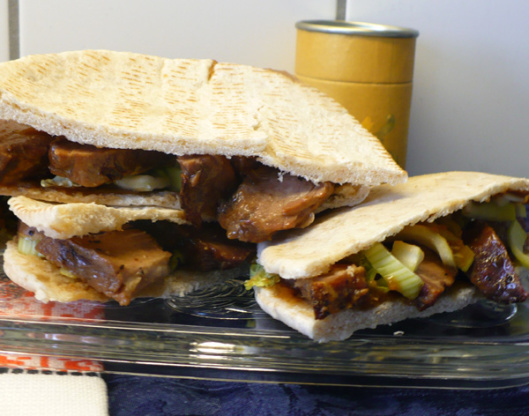 This is a great-tasting sandwich! If you love sate anything, this is the sandwich for you.

Made as written for a fellow Goddess of ZWT-9 (or at least I thought it was). My Story: As I browsed recipes ck'ing for ingredients I knew I could find here in Iceland & got down to pita bread, I was good-to-go w/this recipe - EXCEPT I had overlooked a keyword - WRAP. W/the recipe essentially done & assembly in progress, I read "Fold the pitas in half". So I'm thinking - Fold? How do you fold pita bread? It was only then that the WRAP word cleared the fog in my brain. Pita bread in Greece must be a tortilla! Duh! It was way too late to overcome my error, so we dined & enjoyed my version. DH said "It is messy, but good!" Ev will say "It is what it is." What can I say besides thx for sharing this tasty recipe w/us. :-)
Make the marinade: In a large bowl, combine the onion, ginger, garlic, lime juice, soy sauce and sugar.
Whisk in the oil in a light stream.
Stir in the crushed red pepper and the black pepper.
Add the pork to the marinade, turning to coat completely.
Set aside for 30 minutes to 1 hour.
Preheat the oven to 350F.
Make the peanut sauce: In a small bowl stir together all the sauce ingredients.
Whisk in 1 ½ tblsps of water and set aside (make sure sugar is dissolved).
Light a grill or preheat a grill pan over medium-high heat.
Wrap the pitas in foil and warm them in the oven for 5-10 minutes, until pliable.
Remove from the oven but do not unwrap.
Remove the pork from the marinade and grill the slices, in batches if necessary, until just cooked through, 1-2 minutes per side.
Transfer to a plate.
Lay the pitas on a work surface.
Spread each one with about 2 tsps of the peanut sauce and cover generously with watercress.
Place a slice of pork off to one side on each pita.
Top the meat with some spring onion slices.
Fold the pitas in half and wrap in aluminum foil.
Serve immediately.