Peanut Vegetable Harvest Casserole (Stove Top)
Kathy228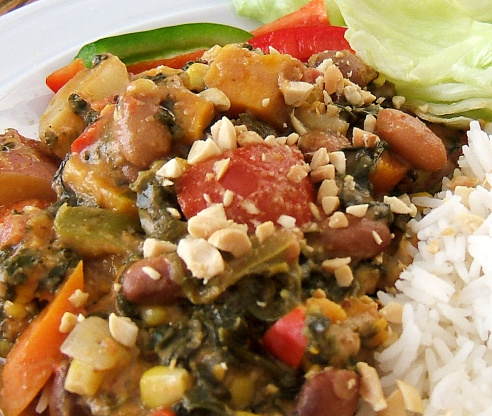 I can't remember where I found this. This is a tasty and filling vegetarian meal - very colorful and textured. The crushed peanuts add a nice taste and crunch to finish the dish.

Yum! We really enjoyed this, and I think it would be quite forgiving as far as using what you have on hand. I made as written with two exceptions: I used couscous cooked in veggie broth in lieu of rice and chili powder instead of red pepper for toddler DS's sake. Thanks so much for a vegetarian meal that even my DH says is a keeper!
Saute onions, garlic and peppers in oil.
Stir in carrots, potato, sweet potato and tomatoes.
Simmer over low heat till just tender.
Add beans, spinach and corn and simmer for another 10 minutes. (Add some water or stock if it seems too dry or is sticking.).
Stir in salt, peanut butter and crushed red pepper.
Serve over cooked rice, topped with chopped peanuts (You can stir the peanuts into the vegetables at the end of cooking, but I like to keep them nice and crunchy.).